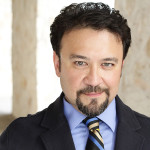 Joseph Fotinos is the host, co-producer, writer and creator of Prof. Griffin's Midnight Shadow Show, Texas' premiere television horror host show. (1999-2007).
As Professor Griffin, Fotinos has hosted the live premiere of IFC's American Nightmare with Tobe Hooper, appeared on SPIKE TV for Halloween hostings, worked with Universal and TNT to promote their horror products, was blessed with the official title of Official Universal Monster Spokesperson (for Central Texas) and hosted at the World Premiere of Freddy vs. Jason. Griffin was also featured prominently in the 2006 Horror Host documentary feature, American Scary.
Prof. Griffin was the Official Halloween Costume Spokesperson for Goodwill Industries of Central Texas from 1999-2010 and his yearly Halloween duties include teaching a class on horror entertainment at The University of Texas.
Joseph's first book, The Midnight Shadow Show- Prof. Griffin Journals– was published by Publish America and new essays were published monthly in Scary Monsters Magazine.
The Midnight Shadow Show and Prof. Griffin were picked up for national syndication with Fangoria TV all-horror cable channel.
Joseph is also a producer at Broom Closet Studios, the Austin Independent Film Company that has produced, shorts, videos and feature films, The Legend of Ghostwolf and The Magnificent Dead.
Joseph lives in Austin Texas and has a 13 year old son Edward, and has actually met and corresponded with the late, great Vincent Price.
Did we mention he loves horror movies?