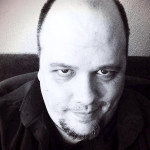 Mark Finn is an author, an editor, and a pop culture critic, recently named one of the top movie reviewers in Texas by the Associated Press Managing Editors. He is a nationally-recognized authority on Robert E. Howard and has written extensively about the Texas author. His biography, Blood and Thunder: The Life and Art of Robert E. Howard, was nominated for a World Fantasy award in 2007 and is now available in an updated and expanded second edition.
Finn also writes comics and novels, as well as articles, essays, reviews, short stories and role-playing games. He is a founding member of Clockwork Storybook, and a managing editor for Skelos Press. When he isn't working at the mid-century two-screen theater that he co-owns and operates, he writes movie reviews, dabbles in magic, and performs community theater.
He lives in North Texas with his long-suffering wife, too many books, and an affable pit bull named Sonya. Mark is an indolent blogger, and his random and sundry thoughts can be found here at Mark the Aging Hipster. His Amazon Author's Page has a wide variety of books he's written that you should check out, too.