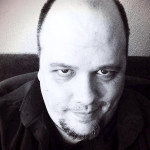 Mark Finn is an author, actor, essayist, and playwright. His biography, Blood and Thunder: The Life and Art of Robert E. Howard, was nominated for a World Fantasy award in 2007 and is now available in an updated and expanded second edition. His articles, essays, and introductions about Robert E. Howard and his works have appeared in publications for the Robert E. Howard Foundation Press, Dark Horse Comics, Boom! Comics, The Cimmerian, REH: Two-Gun Raconteur, The Howard Review, Wildside Press, Centipede Press, The University of Texas press, Greenwood Press, Scarecrow Press, The Dark Man: The Journal of Robert E. Howard Studies and elsewhere. As a noted authority on the Texas author, Finn has presented several papers about Robert E. Howard to the PCA/ACA National conference, the AWC, and he lectures and performs readings regularly.
Finn also writes comics and novels, as well as articles, essays, reviews, short stories and even role playing games for Playboy.com, RevolutionSF.com, Dark Horse Comics, DC/Vertigo Comics, Monkeybrain Books, Sky Warrior Books, F.A.C.T. Publications, Tachyon Press, Modiphius Press, and others. Finn's fiction can be found in Ray Guns Over Texas, Road Trip, Tails From the Pack, Empty Hearts, Heroika: Dragon Eaters, Barbarian Crowns, Asian Pulp, and Fight Card: The Adventures of Sailor Tom Sharkey, and elsewhere. He is a founding member of Clockwork Storybook, and when he is not working in Howard Studies, he writes comics and fiction, dabbles in magic, acts as a creative consultant for media companies, and produces and performs community theater.
He lives in North Texas with his long-suffering wife, too many books, and an affable pit bull named Sonya. Mark is an indolent blogger, and his random and sundry thoughts can be found here at Mark the Aging Hipster. His Amazon Author's Page has a wide variety of books he's written that you should check out, too.